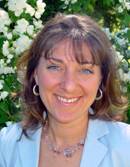 Over 25 years experience in various functions, mainly in Human Resources, with multinationals and international organisations and 15 years as a trained Counsellor and Coach.
Some of the HR positions I've held with Europe-wide responsibilities were as Leadership and Development Manager, HR Director, and Recruitment and Development Manager.
As a Coach and Psychosocial Counsellor, I have become increasingly interested in somatic psychology and neuroscience of the mind and body and how these approaches make the process of change more effective and efficient.
Originally from the United States, I have been living and working in Switzerland for more than 20 years.  I work in both English and French.  I am resourced and re-energised by being out in nature enjoying a variety of outdoor sports, meditation, yoga, and time with family and friends.
Education
MBA
MA Counseling
Master Coach diploma from Institut de Coaching (IDC) Geneva
Somatic Experiencing Practitioner certification
ASCA certified: Psychology/Psychotherapy discipline. My therapist number: U006447
Certified to deliver
Coaching Skills by Center for Management and Organizational Effectiveness
Targeted Selection by DDI
Myers-Briggs Type Indicator
Profilor (360 feedback tool) by Personnel Decisions International
Lominger Competency model and Voices (360 feedback tool)
Professional Memberships
ASCA ( Swiss Foundation for Complimentary therapies)   www.asca.ch
SGfB (Swiss Association for Counselling)                            www.sgfb.ch
International Coach Federation                                           www.coachfederation.org
Somatic Experiencing Trauma Institute                              www.traumahealing.com
Continuing Further Education
As a professional counsellor and coach, in addition to regular supervision, I am committed to staying up to date on the latest research and thinking in the field and continually furthering my education and skills.